The Company
The Aquastar boatyard in Guernsey has enjoyed continuous dedicated management in over four decades of yacht building. We are as passionate about our range today as we were when we launched our first boat. Our experience includes building the UK's largest GRP trawlers with 25 ton wet fish/hold tanks in the 1970's, through 50 ton displacement 81' maxi yachts with 12 ton keels which ploughed the oceans of the world in the 1980's to the present day state of the art, inspired, stabilized motor yachts which are respected the world over. In this time we have developed a thorough understanding of what our owners require along with an unchallenged marine engineering expertise. We continue to build a range of legendary motor yachts from 38 to 85ft and our skilled and committed staff share our ethos of first class workmanship.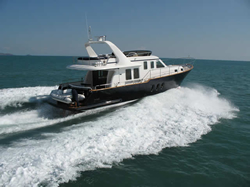 Today we continue with the theme of timeless contemporary motor yacht design with sumptuous interiors and balanced proportions with stability, range with fuel efficiency and Aquastar renowned seaworthiness. Working with interior designers including Ken Freivokh and Mark Tucker the yard is capable of the best traditional style interiors as well as the most modern. Customisation still comes as standard with on-going service and back-up taken for granted. Creating cutting edge looks, Mark Tucker's portfolio includes the latest Sunseeker Predator 130' and the world's latest superyachts. Visit Design Unlimited's website at www.designunlimited.net for an insight into the capabilities of this design studio.
There are other good reasons for choosing an Aquastar. By siting engines and fuel tanks amidships the major weight is located away from the extremes providing balance and a superior ride across the speed range without the bow riding up and slamming.  Customers who have moved from planing boats appreciate these benefits. A recent comment in a boat report on a French production boat "it was okay, but not in the same league as any of the Aquastars magic carpet ride".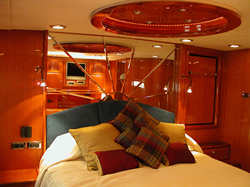 Every Aquastar yacht is moulded from top quality tooling, in the best isophthalic gelcoats, for superior shine and wear resistance. The yard having experience in working to Lloyds, DTI, sea fisheries authority and pilotage authority.   Efficient use of flow moulding and fitting out programmes result in a top quality craft built in good time by tradesmen with more experience in semi-displacement motor yachts than any other U.K. yard. We positively encourage our clients to visit the yard and share with us their ideas on the look of their finished boat including layout and any other features they may wish for.
Quality and innovation
The Aquastar brand is known for their overall level of expertise and know how, the brand you can trust.
Whether it is our innovative, fuel efficient hull design, or the attention to detail that makes the Aquastar stand out above the norm.  The engine room is the heart of a motor yacht and we draw on our engineering expertise to make this the best available.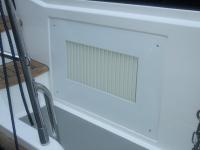 We fit as standard air intake demisters to each engine to ensure that the air supplied to the engine is free of spray and mist, preventing corrosion and engine wear.  One of the many points to ensure reliable, enjoyable cruising.   Would you like your boat to send you a text when the shore power trips.  This can now be a plug-in cost effective unit, well worth fitting, so batteries are not left to go flat.  The unit is standard fit on all new Aquastar Motor Yachts.  All part of the Aquastar complete care package.
We invite you to share our passion.
Our team can produce you a superb Aquastar Motoryacht with dedicated after sales support at a surprisingly affordable cost. Please Get in touch to find out more.