Latest News and Events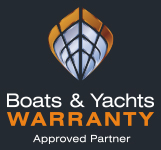 Please click on link below for quote from Boats and Yachts for warranty 
Brokerage News update 
New listing coming, full details to follow.  First time on the market, First Aquastar 74' with the crew accomodation layout to come available.  Price £885,000.00.  
New listing Aquastar 38' Aft Cabin only a handful of years afloat, still like new.
Phone or email Geoff Willson to register your interest.  The skill and quality built into these crafts is a factor they do not come on to the market often and are soon sold. 
Marine berths news update
Guernsey and Jersey have reorganised the marina spacing and can now offer berths.  The advantage of buying a new Aquastar motor yacht is no VAT is payable on the stage payments, or final purchase.  The new craft can be seatrialled and used the first year around the Channel Islands of Jersey, Guernsey, Alderney, herm and Sark.  VAT is payable when she is taken to the UK, a worthwhile deferral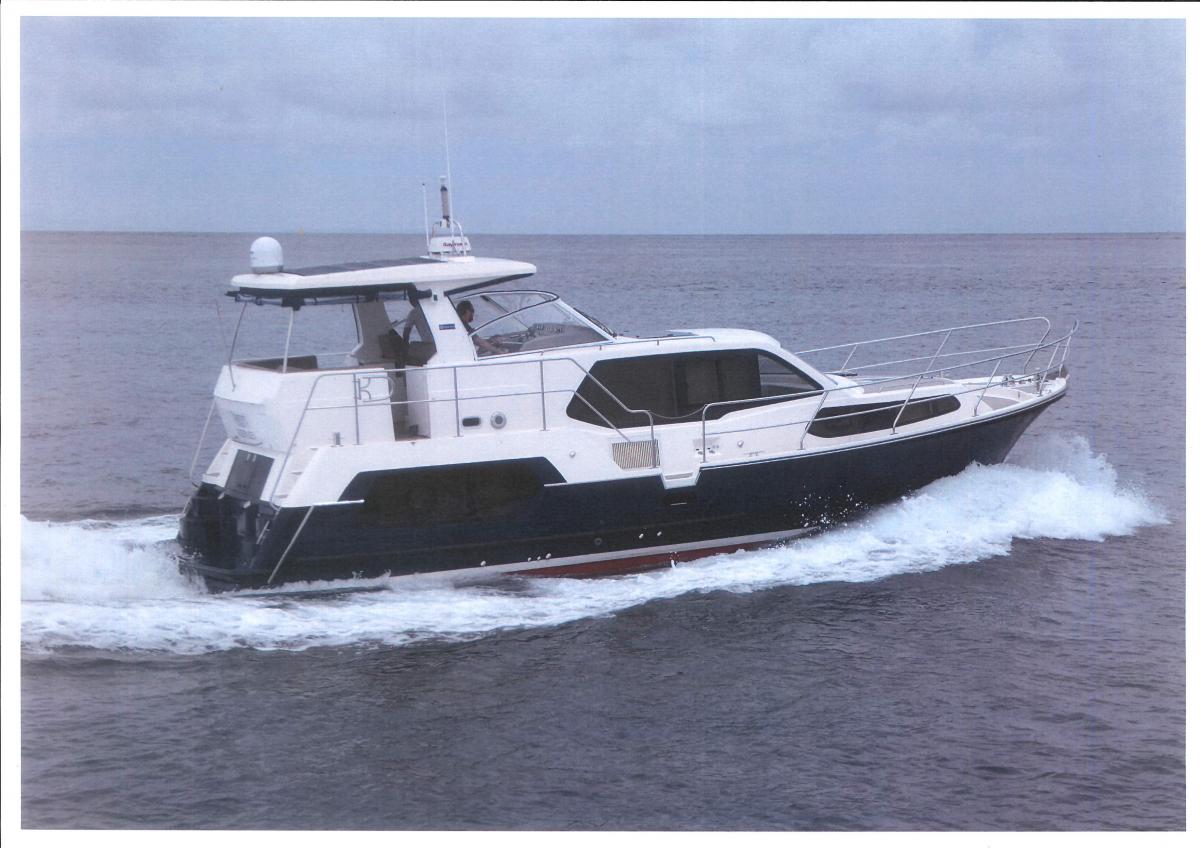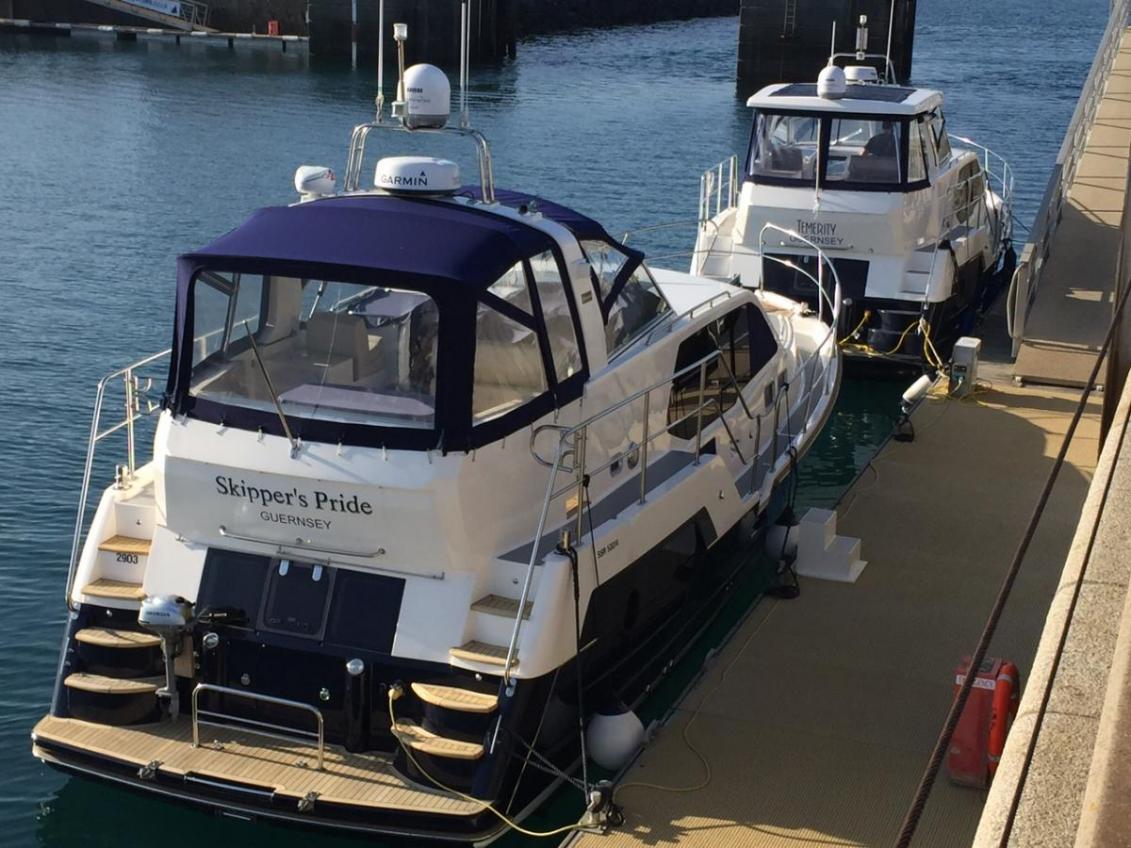 The flowing lines of the new hardtop enhancing further an already stunning looking motor Yacht, One of the finer things in life enjoying the style and quality of a Bespoke Aquastar.
Aquastar 430 launching in full swing for the season "Skippers Pride" bespoke exterior with forward cabin, individual portlights. exterior main outer helm layout.  
Bespoke saloon with seating port and starboard.  A custom galley, fitted dishwasher and washing machine fitted opposite on portside.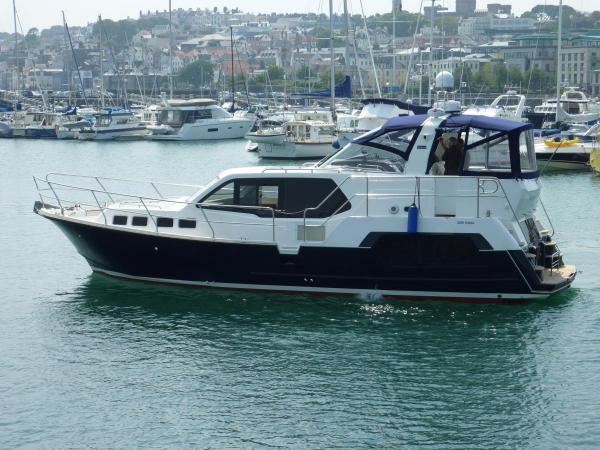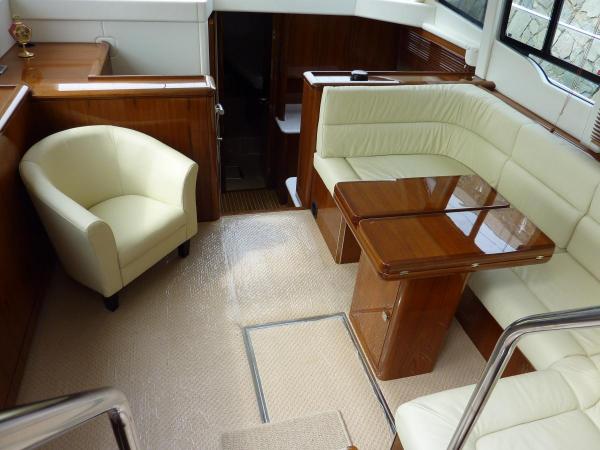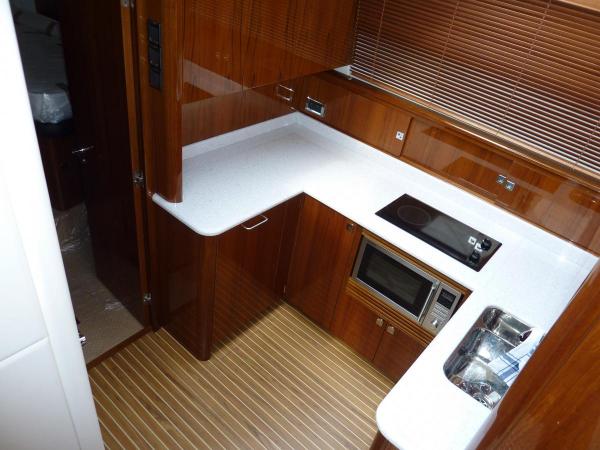 Legendary creator of the fabulously built Iconic Italian  "Riva Aquarama" "Carlo Riva", passed away at 95 this Spring. The legend lives on in the "Aquarama" being the most sought after appreciating in value Boat to have been produced. 
Aquastar have often been asked how do we achieve such a world beating wood finish built into the Aquastar motor yachts.
 The "artisans" in Italy now working on the bespoke Aquastar joinery are having the advantage of being time served with the great Carlo Riva, gives Aquastar the quality our competitors can only dream of. 
"Aquastar" inspiring motor Yachts with a fit out second to none, first for quality, driven by the urge to be best in class.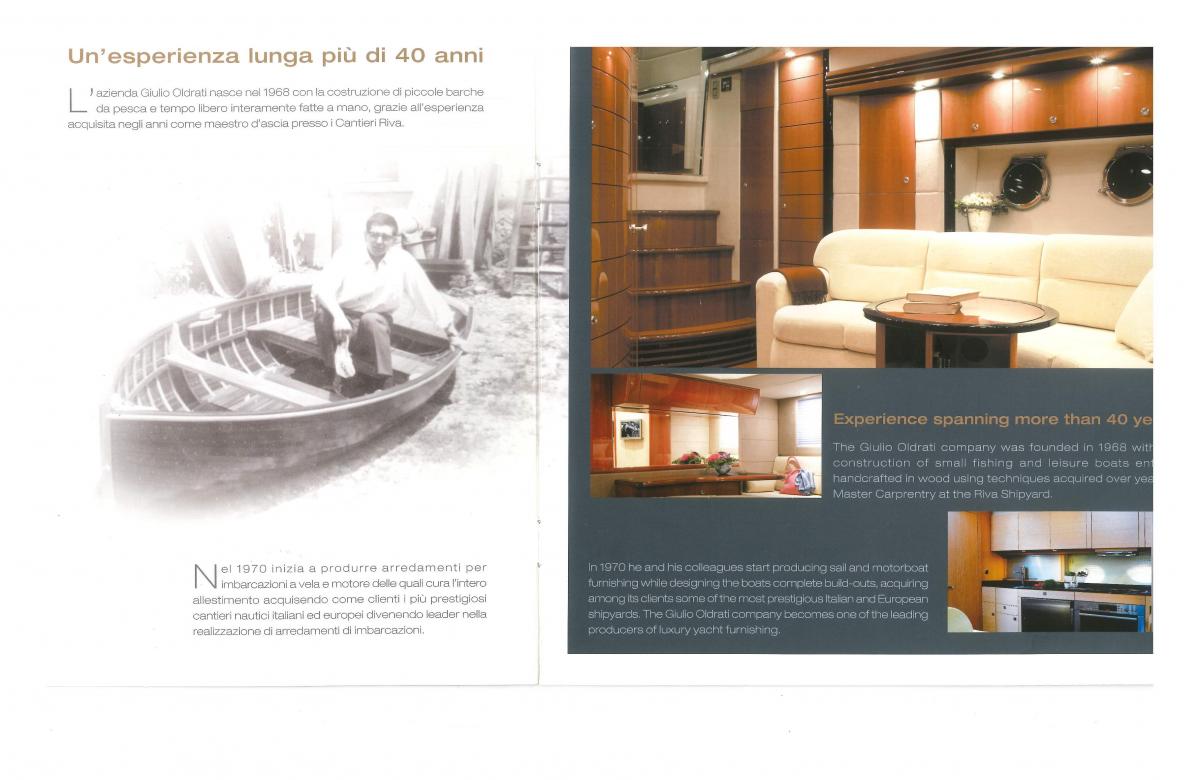 The ultimate 43' Bespoke Motor Yacht
New for 2021 - The new Aquastar 430 Aft Cockpit  
Following the success of the renowned Aquastar 430 Aft Cabin Motor Yacht the company have now released details of the new Aquastar 430 Aft Cockpit. The new design continues the understanding of tradition with modernity carefully balanced to incorporate the Company's philosophy of evolution.  The new Aquastar 430 Aft Cockpit, styled by 'Design Unlimited' shows uncompromising elegance, strength and integrity. 
Aquastar offer a choice of layouts, each craft being bespoke, for example  a galley in saloon option in place of the galley below, a third cabin as a family boat layout. 
The spacious saloon with curved 2 piece fwd screen giving great visibility fwd.  A side door by the helm can be specified and the cockpit overhang can be specified with a foldaway opening.  This new 43' looks a handsome vessel to follow up from the great looking Aquastar 38'. 
Fuel consumption is kept to a minimum as a result of the good balance between beam and hull length and a very slippery hull shape. The twin shaft drive is the standard fit, but a single is offered with a hybrid drive if required.  Hydraulic legs can be specified for drying out to widen the cruising options.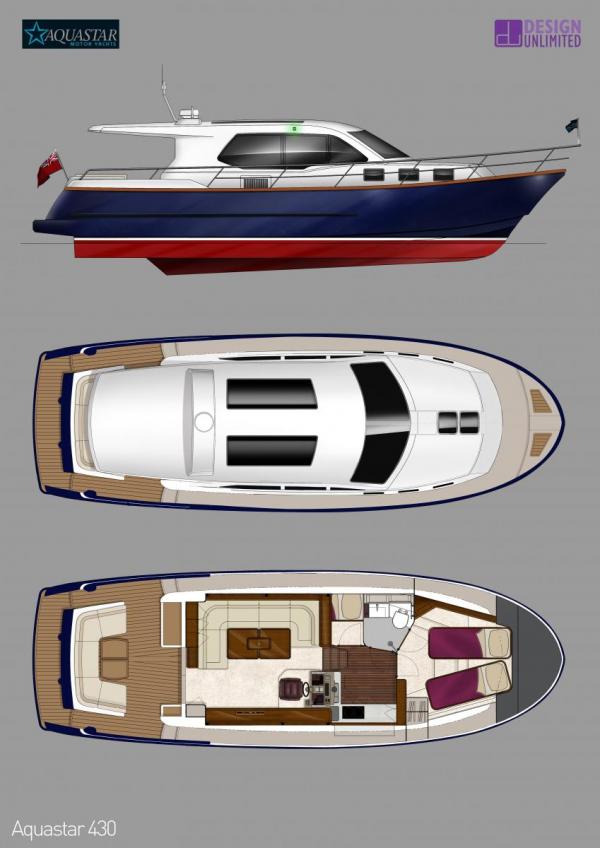 NEW AQUASTAR 430 SUNROOF 
New hardtop folding sunroof option on the renowned Aquastar 430.  Our designers have been working on a sleek hardtop option on the Aquastar 430, drawing details below.  Unlike our aspiring competitors, the Aquastar 430 sunroof has been designed to have an option to articulate down aft, with a power assisted option to lower for transiting inland waterways of France.  More details of the Aquastar engineering available from the boatyard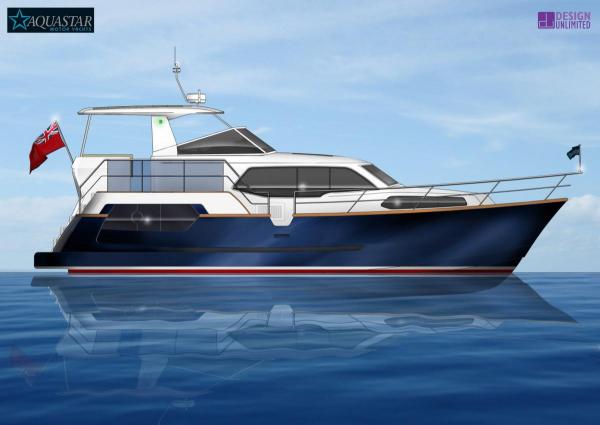 AQUASTAR 430
SCAVAIG
430 bespoke Motor Yacht.  Probably the smallest motor yacht to have the luxury of stabilizer fins fitted, with all the comfort of performance normally afforded to larger craft.
 Having completed seatrials in 2 metre Atlantic swells, the ride comfort was outstanding.
 The new vessel leaving Guernsey for her home port in Scotland, with over 500 sea miles to cover with the twin Yanmar engines. 
 The layout option fitted has the dinette opposite the galley.  The inner helm was also chosen with the flip up navigator seat opposite the helm, for crew use while passage making. 
 Photos of Scavaig: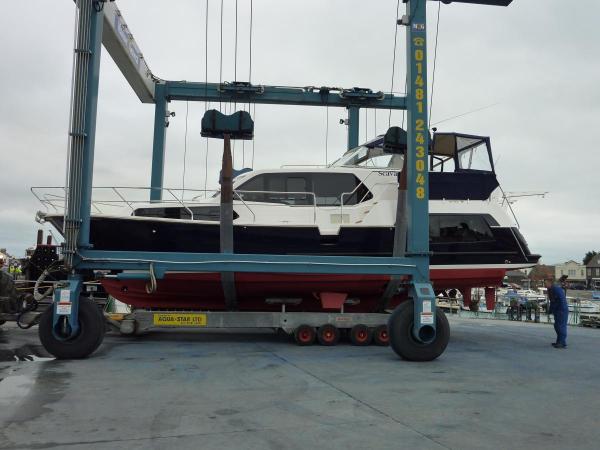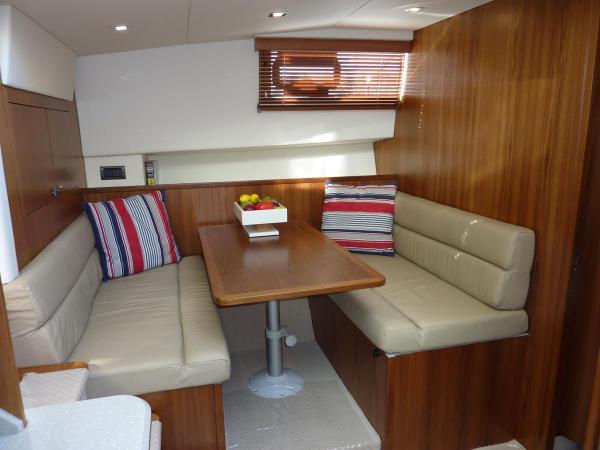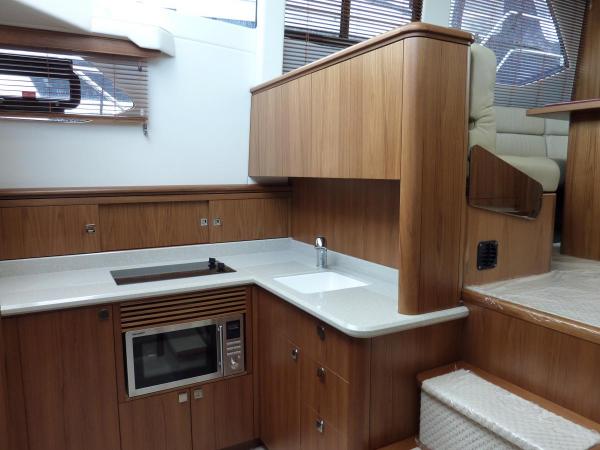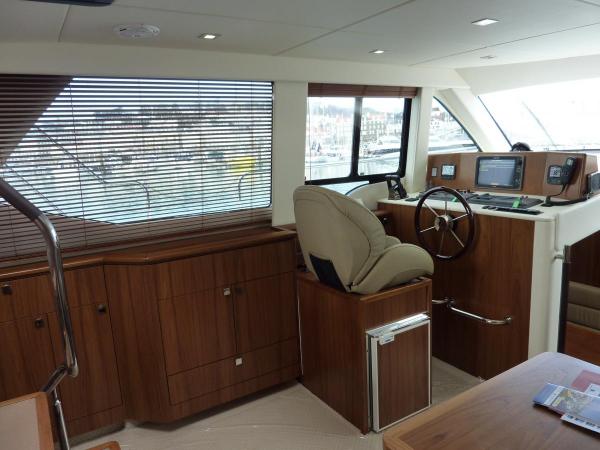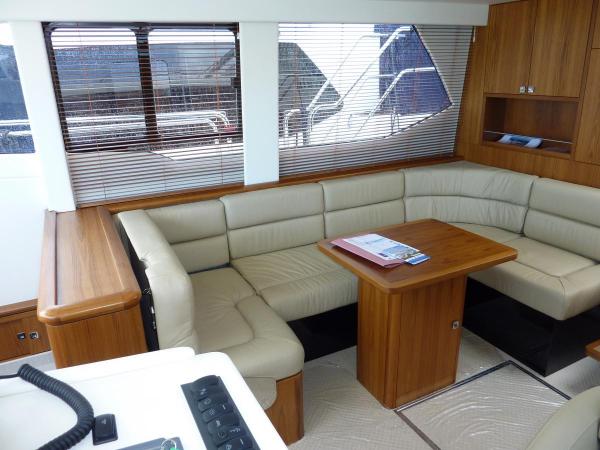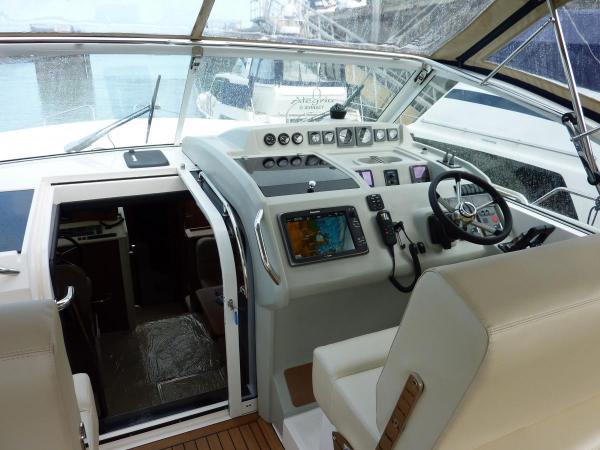 The success of the Aquastar 430 outselling our near competitors by 3 to 1
Extracts from Tony Giblett's log on his Maiden Voyage from St Peter Port To Scotland 
Scavaig is a brand new Aquastar 430 aft cabin built to the specification of Elisabeth and Robert Aldam and launched in March 2014. She is fitted with a pair of Yanmar 370hp engines in a well organised engine room with all check points readily to hand. The boat has been well specified by the owners with a Kohler generator and Wesmar hydraulic stabilisers. On top of this she is superbly fitted out by the Aquastar yard with fabulous joinery, excellent accommodation throughout and a breathtaking aft cabin.
3 April
Departed St Peter Port on the morning tide in misty conditions. Took the southerly route around the island, dodging lobster pots before passing Les Hanois and setting a course across the channel for Penzance. Sea conditions were around force 3 to 4 and we reached the Lizard after a six and a half hour run. A short run across Mounts Bay saw us into Penzance Wet Dock after putting some fuel in to make sure we had ample for the next leg to Milford Haven. The wet dock at Penzance is like a step back in time with fishing boats, coasters and leisure vessels all crammed in. We tied up against the wall where the boat drew interest from colourful locals. 
4 April
Having done all the checks we set off for Milford Haven on the tide the following morning. Winds were fresh from the south and we took the inshore traffic zone (but outside the Longships Lighthouse). We were soon able to set a course in reasonably calm conditions for Milford Haven some 95 miles away and apart from a lonely dolphin we had the Bristol Channel to ourselves. We decided to tie up at the marina in Neyland as they have berths at all states of the tide and we did not want to be delayed the following day. 
5 April
Thick fog and strong southerly winds (and a strong tide holding us against the pontoon) the following morning. Were we being given a hint?
We set off cautiously down the Haven with Roo on the lower radar and me on the upper plotter carefully picking our way between buoys and super tankers. It took an hour and a half before we were close to the south facing entrance where the winds had funnelled into a big sea. We pushed on to the south until we were well clear of the mid channel rocks before gradually turning west with the seas on our beam. The stabilisers really came into their own at this stage and we had a largely untroubled time despite measuring true winds of 42 knots as we left the Haven. Once we could lay a track clear of the Bishop's Rock we set a course for Dun Laoghaire through poor visibility all the way, only seeing the many ships and fishing boats using the radar and plotting their closest point of approach (CPA) to see which ones could be a problem to us. We got to Dun Laoghaire in the early evening, tying up in the excellent marina. We dined in a popular restaurant and bar in the town which was so busy we shared a table with some sailors who were amazed when we told them how far we had travelled in 3 days.
6 April
The southerly winds were strong on the Sunday with the shipping forecast giving nothing less than F6 for the whole of the Irish Sea. We took the boat into Dublin bay to assess conditions for a run up to Bangor Marina and decided that the following day would give us a better weather window.  
7 April
Weather much improved and we set off for Belfast rounding Portavogie and passing through Donaghadee sound. Last time I came to Donaghadee was during a Lifeboat delivery trip some 10 years ago and remembering the warm welcome there last time I was tempted to put in there again. However we had a schedule to keep so we pressed on to Bangor arriving in the early afternoon. Elisabeth and Robert were waiting for us on the fuel berth where we topped up the tanks. 
We were due to overnight in Bangor but, very sensibly, Elisabeth and Robert suggested that we might press on for Portavadie, their home port given the forecast for the following day. The owners climbed on for the last leg of about 75NM passing Whitehead light on our port side before crossing the Irish sea in conditions I have never known before – flat seas and a wind from behind. A lovely way for the owners to take over their new boat. Robert navigated us between the Kintyre Peninsula and the Isle of Arran through the Kilbrannan sound and north to Loch Fyne. The scenery was breathtaking which showed why cruising the west coast of Scotland is such a popular pastime (never mind all the distilleries and salmon smokehouses you can visit). We finally arrived in Portavadie Marina at about 7 that night having covered around 175NM in the day. 
Overall we covered around 550NM with the only issue on the boat being a faulty oil pressure sender which E P Barrus dealt with at Portavadie. The boat managed some conditions which would have been very testing for some larger boats and instilled complete confidence. When dealing with a large head sea we were able to keep the speed up which both reduced the time we were in it and gave us good directional control. Low speeds in such conditions in some boats, increase the risk of broaching but never once were we in danger of doing so whether in a following or head sea and not once did I need to take control from the autohelm.
Comfort in beam seas was outstanding as the owner specified fin stabilizers a relatively inexpensive option and well worth considering, it was like the boat was on rails. 
Bike Stowage Aquastar 430 
Aquastar have designed a portside locker under the port nav seat to accomodate 2 Brompton bikes.  This lockable locker takes away the norm on most boats of trying to stow the bikes in the accommodation and the handy stowage makes the bikes readily available. 
Aquastar Pilot Boat News
The Maltese pilots have been operating a Aquastar 33' pilot boat for 22 years and a Aquastar 38'pilot boat for 17 years, both Aquastar craft still in good service.  A couple of years ago the Maltese pilots added a "Interceptor" craft to their fleet.  After 2 years evaluation the Interceptor "pilot boat" was found to use an extra £25,000.00 worth of fuel per annum to run, compared to the Aquastar.
Not surprisingly the Maltese pilots have ordered another new Aquastar pilot boat, testimony to the Aquastar design being extra fuel efficient, sound construction and great seaworthiness
No other pleasure boatbuilders can match Aquastar's unequalled expertise and pedigree of repeat orders for Pilot boats that work 12 months of the year.  .
 More boating in more comfort, Aquastar leads the way. 
SUMMER MEMORIES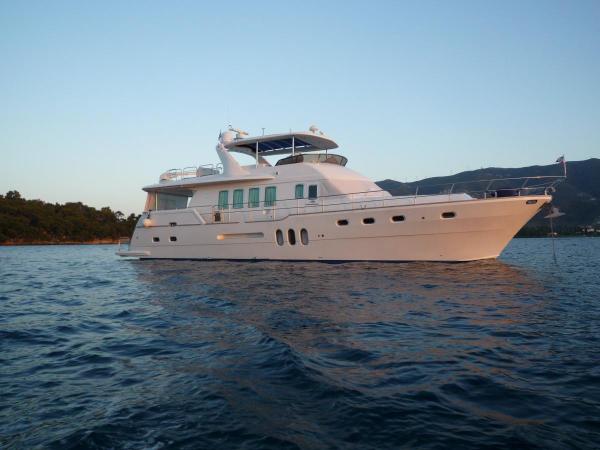 The Aquastar 74' "Alkioni" anchored off the Greek Islands in the Summer.  The MD enjoying a week on board with the owner, sampling the delights of Aquastar mini Superyachts first hand.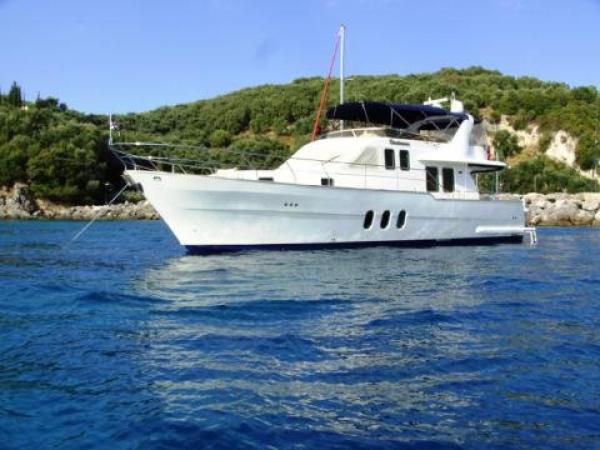 The Aquastar 57' "Kardamena" anchored off Corfu in the Summer.  Showing the timeless lines of the Aquastar quality Motoryachts.
One of the often asked questions is "what is the difference between an Aquastar hull shape and a Nelson" 
Aquastar are obvious competitors to Nelsons.  They have outwardly similar hull forms and they share the spoils when port authorities come to choose their pilotboats.  However, even if you miss the small but significant differences in their hull shapes, moving between a Nelson 42 and Aquastars new Ocean Star 48 is quite and eye opener.  Surprisingly, there is only 12% difference in overall length between the two, but with 15ft 0inch (4.57m) of beam compared witht he 12ft 10inch (3.92m) of the Nelson 42, strolling onto the Aquastar is like moving from a two-up, two-down into a 4 bedroom semi.  The palatial accommodation provided by the Aquastar is only one of many things that make or break a boats success. 
Numerous buyers trying to choose between semi-displacement and contemporary, high speed planning powerboats.  Two things seem to influence their decisions more than others.  Firstly, the look, although many are open minded about the pros and cons of the two types, some are simply more at ease owning a traditional  looking boat.  The percieved heavy weather handling and performance gains also figure highly. But I feel that the biggest differences are often found in the way that builders of semi-displacement boats approach their task. 
The next Aquastar 430 is in build for an owner who is replacing his Nelson for a more up-to-date craft. The outstanding inherent seaworthiness and style of the Aquastar 430 with its twin Yanmars will be complimented by fitting stabilizer fins.  "Why not indeed" our owners state we can continue boating comfortably in a higher Beaufort wind scale than other boats.  Aquastar' 430  new option for 2017.  The canopy arrangement now has an option of moulded sun roof unit with centre opening soft top over aft seating.  There is also a fibreglass hardtop over the helm seat with opening hatch option.
The 5th 570 has been launched, with novel features, a Opacmare transformer platform, hydraulic legs for grounding and effortless cruising up to 25 knots.  Engineering customisation taken in our stride. 
New Aquastar 570 fast semi displacement motor Yacht
One of the unique engineering offerings from Aquastar.  On request, one of our customers in France asks "We would like to have our new Aquastar 57' with drying legs"!
Being a 40 tonne motor Yacht, robust permanent stainless steel hydraulic legs were designed by Aquastars engineering department to fit on the Transom and deployed as and when required, shallow harbours that dry out, the Aqua-star 57' takes grounding in its stride keeping the bottom and Props clean has never been so easy on a 40 tonne Motor yacht and no crane lifts required.
"Strength" and quality, Excellent sea boats.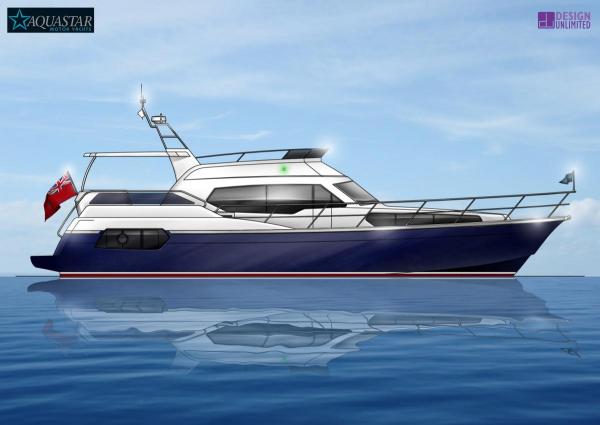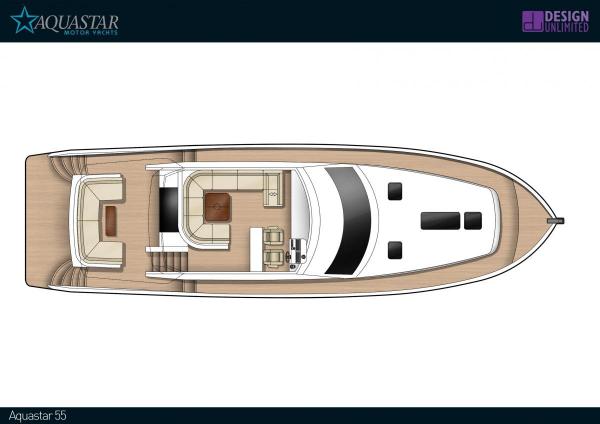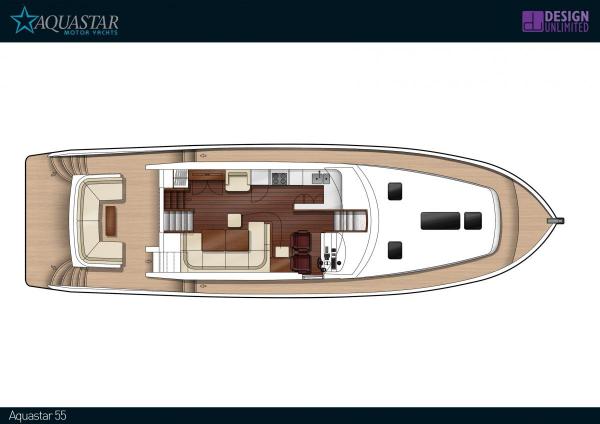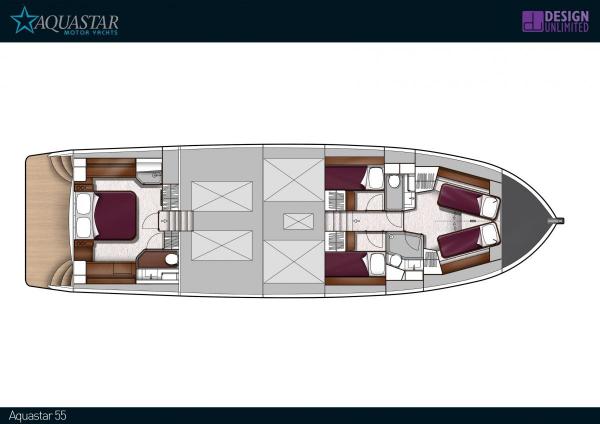 The new Aquastar 49' is looking superb.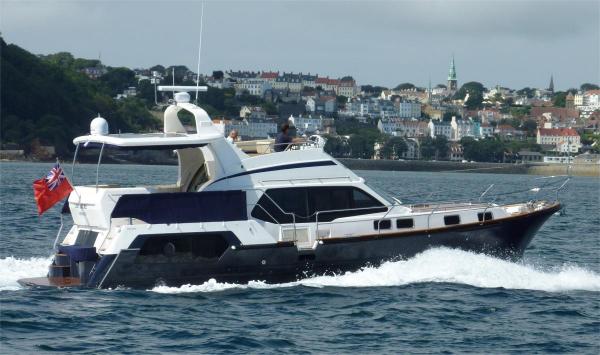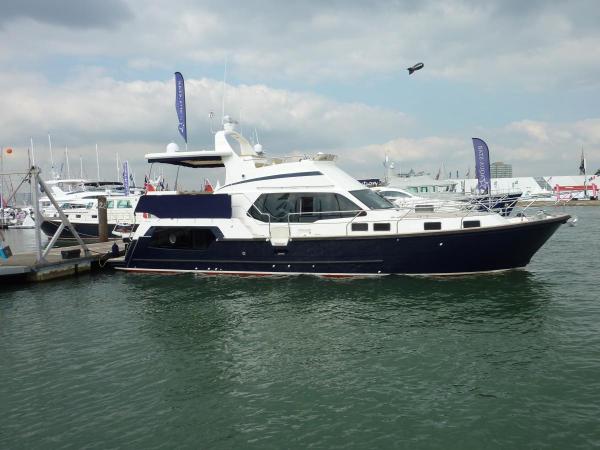 The Aquastar 49' MKII.  Unique, thoroughly seaworthy, motor yacht, fore and aft cabin  Ensuite and mid cabin.  Exterior deck space with aft cover flexibilty, BBQ, bow and stern thrusters, stabilizers for the best comfort at sea.  Heating air con, Raymarine electronics, hydraulic passerelle, tender lift.  Washing machine, heated towel rails, satellite dish, twin Volvo 500 hp engines.   A great looking craft,  Competitive price £POA.
Inspired Aquastar Motor Yachts, meticulously designed and built, evolution taking a pace forward, using our renowned pedigree as a foundation.
New models – the New Aquastar 430 has outstanding reviews on design and build, see the video on our website.  The latest development for the Spring is the New Aquastar 49' ( profile as above) please contact us for details.  The new 75' looks outstandingly sleek, and custom built to order.
We are best placed to provide you with an outstanding stabilized motor yacht.  Seaworthiness a byword of the mark.  Competitive, plus ongoing service and backup from a friendly team.  
Aquastar can build the boat you desire.  Over four decades of experience and passion from our family-owned yard.
The Pleasure of Ownership
Neal and Erika Crookall recently took delivery of their beautiful 48ft Azure. His comments are reproduced (with his permission) below:
We took delivery of our beautiful  48' Azure on Friday 29th June and after a few days of familiarization planned to take her home to the Isle of Man early the following week. However conditions in the Channel were not favourable with winds of 5 to 6 gusting 7 and no sign of an imminent respite so we flew home on Wednesday 4th July to wait for a window.
That came last Friday 20th July when we set off from St Peter Port at 06.15. Conditions were lumpy in the Channel after weeks of high winds. Nevertheless 'Erika-Jo III' performed magnificently & after 7 hours we were off Lands End with a course set for Milford Haven.
Arrived there  around 19.00 with a berth at picturesque Neyland Marina.
After refuelling we set off for Isle of Man at 09.45 Saturday morning with light southerly winds although the Coastguard gave warnings of fronts approaching with strong winds forecast for early Sunday morning.
We spent the whole passage from South Wales on the flybridge with dolphins and many sea birds for company. The AIS was invaluable as we passed the busy shipping lanes. We made it at a gentle pace in just over 8 hours from Milford Haven, a distance of 170 miles arriving at Douglas just before 18.00.
Please thank Lee and all the craftsmen at Aquastar who have built this lovely vessel.
Kindest regards,
Neal.
Incidentally we took the boat from Douglas to Inverkip yesterday a voyage of around 130 miles completed in 6.75 hours. Conditions in the North Channel were a bit lively in a strong beam sea but the boat performed magnificently.
Yard visits and demonstrations are always welcome Monday to Saturday. Please contact us to arrange a visit. 
Not one to rest on our laurels, intently listening to customer feedback has focused our thoughts on our latest new model.  "Space" being the watchword on board.
 Aquastar 60+ Semi-Displacement Motor Yachts
The successful Aquastar 57' Azure motor yacht is now available with a 60' hull and superstructure.  The new Aquastar 60' Azure gives a larger saloon, master cabin and also mid cabin/office area, all in a enhanced look, better fuel economy with the longer hull length.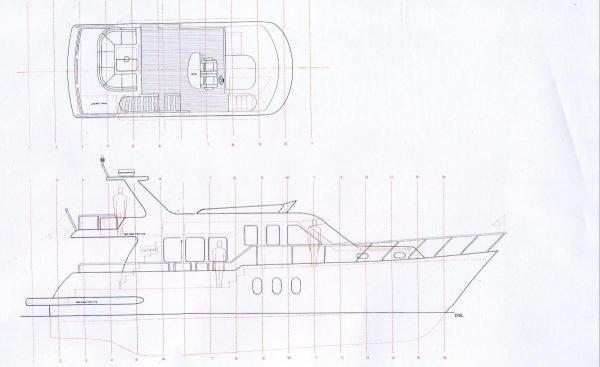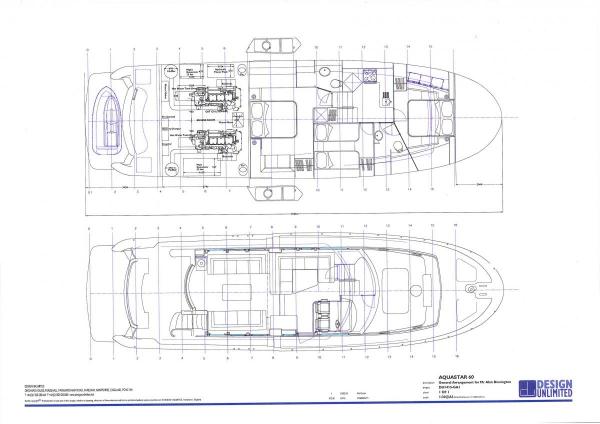 Expedition Yacht options 75' - 85' +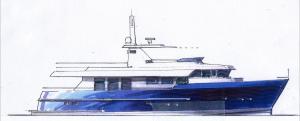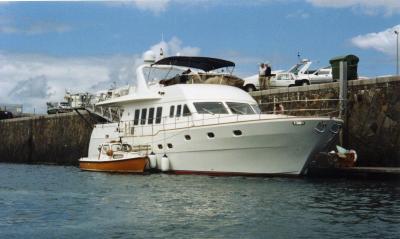 "The Marque of Distinction" 
1970's Aquastar 19' alongside the Aquastar 70' Winner of the Motor Boat of 
the Year award.  40 years of building the finest pilot boats and motor yachts. 
"Experience and Passion".  The brand renowned for timeless elegance and impeccable
build quality.  No two Aquastars are the same.  Each reflecting the owners taste.
Our heritage and commitment embracing the future.